news world
Liz Truss 'not ruling out' direct financial support for cost of living – live | Politics
Key events
The Conservative leadership frontrunner Liz Truss is set to declare China as an official "threat" to the UK's national security for the first time, according to a report in The Times this morning.
She is planning a tougher approach to Beijing and, according to allies of the foreign secretary, would elevate China to a similar status as Russia – currently defined as an "acute threat".
The foreign secretary has promised to reshape foreign policy if she becomes prime minister, The Times reported, adding that she has pledged to reopen an integrated review, published last year, which set out British priorities in diplomacy and defence over the next decade.
Boris Johnson is "hoping to do a Berlusconi" and make a "populist return" to Downing Street after being ousted by his own MPs, according to a former Conservative cabinet minister.
In an interview with the Guardian, Rory Stewart said people needed to be reminded Johnson was forced to quit – over a slew of scandals – because some supporters wanted Johnson to "come back".
Several of Johnson's allies believe his detractors will come to rue removing him from office upon his successor taking over, and will brush off the poor polling as midterm blues.
But some Conservative MPs have privately voiced concerns the party could be on course to lose the next general election, due in part to the damage wreaked by Johnson – evidenced by a string of byelection losses and not having held a poll lead since December 2021.
Stewart, who ran against Johnson in the Tory 2019 leadership election, called Johnson "dangerous" and said "there are people who want him back".
He added: "I think we need to remind people why he left. He should have gone much, much earlier. What he did was deeply, deeply shameful – and dangerous."
Meanwhile, Alistair Darling has argued the government must take bold action to tackle spiralling energy prices to avoid a "lethal cocktail" of recession and high inflation.
The Labour former chancellor told BBC Radio 4's Today programme:
You need something significant and substantial and you need it now, because people's bills are going to start coming in in a few weeks time. If you don't do that then you have the risks that I've been describing, that the economy will slip into recession with all that entails.

And when you've got that on top of the fact you've got inflation already at very, very high levels we haven't seen since the 1970s, this is a lethal cocktail, which is why it needs bold action taken by the Government now, not fiddling around with small measures that frankly won't make any difference at all.
Darling said the lesson he learned in the 2008 financial crisis was that government had to do "more than people expect" as he called for more action to tackle rising energy prices.
He added:
One lesson that I drew from what happened in 2008 is you've got to do more than people expect and you've got to do it more quickly than people expect if it's going to work.

It's going to cost money. When I announced the package in 2008 when it was the banking crisis, it amounted in total to about £500 billion, that actually we got all of that money back over the following years…

So what I think we need to see today from the Government, from the new prime minister, is measures that will be big enough to deal with this.

You've got to look at things like the proposal from my former colleagues in the Labour Party, talking about a freeze on prices for a period while we sort these these things out, and you've got to announce it now.
The government is working on plans to help people with energy bills this winter, a Tory minister has claimed.
Victoria Prentis, a minister at the Department for Environment, Food and Rural Affairs, told Times Radio on Monday:
It's right that people need help and I'm really here to try to reassure that the government is making plans to help people as they will need it with energy bills this winter.
She added:
I would like to reassure that there are many, many different plans being worked on by civil servants and ministers at the moment, and whoever comes in as the next Conservative leader and our next prime minister will have the background work ready and will be able to make those difficult choices very quickly and before it's needed.
Prentis, a supporter of Rishi Sunak, argued that the nationalisation of Britain's energy industry or freezing the price cap were not the solution, but that targeted support was needed. She said:
What we need to do is not necessarily help everybody in the country in the same way. We need to make sure that while we will be providing some general support… most of our support goes to those really vulnerable households, particularly pensioners, people with disabilities, for example, people who really don't have other options.
Liz Truss 'not ruling anything out' on direct financial support for everyone
Good morning and welcome to the UK politics live blog on this August Bank Holiday Monday. I hope you are having a good weekend so far.
We start with news from Team Truss. Her camp has said the Tory leadership frontrunner is leaning towards targeted support over help for all to ease the cost of living crisis, but said she is not "ruling anything out".
Various different possibilities have been floated in the media, with Rishi Sunak's team warning that cutting VAT by 5% across the board would be "regressive" amid reports over the weekend his rival was considering the move as a "nuclear" option, the Press Association reported.
The Sunday Telegraph said this was one of a series of possible strategies to ease the strain being drawn up by the Treasury for the new prime minister to look at when they take office.
It was also reported by the BBC on Sunday that Liz Truss had "ruled out" direct support for everyone to assist with soaring bills. But a source from the foreign secretary's team later said that – while she is more attracted to targeted assistance – she has not yet ruled anything out.
They said:
Liz has been clear we need to lower the burden of taxation and focus on boosting energy supplies and this will be her priority as prime minister.

She's also been clear further support may be required to help. Her preference is to target this to those most in need, but isn't ruling anything out.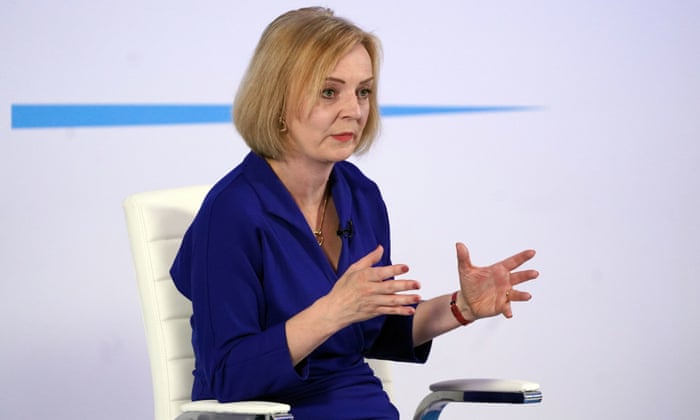 It comes as The Times released new polling suggesting nearly half of current Tory voters want Britain's energy industry to be re-nationalised. The newspaper reported that 47% back returning energy companies to public ownership, while 28% oppose it and 25% are unsure, according to the YouGov survey.
The poll, carried out on Tuesday and Wednesday last week, also found that Labour's plan to temporarily freeze energy bills, valued by the party at £29 billion, is supported by 51% of Tory voters, with only 17% opposing the policy.
With the energy price cap set to rise by 80% by October, whoever emerges as Boris Johnson's successor on 5 September will have a mammoth task on their hands to steer the country through the winter.